Where available spacings do not suit a certain project, custom made pickups can be built to order and as well as mandolin family instruments, Almuse can create and repair pickups for many different solid body applications.
The pickup below was made to suit a bouzouki originally equipped with only a piezo pickup. The owner then sent the instrument via courier for installation which required some careful routing plus drilling for the wiring through from the endpin socket to the pickup cavity.
"For many years I had toyed with the idea of adding a magnetic pickup to the original piezo pickup in my Russ Haywood hand made solid bouzouki.The two things that stopped me were the the fact that I couldn't find a 4 pole pickup designed for double strings and I didn't want to ruin the clean carved simplicity of the instrument. The idea of taking a router to it  was very worrying.
But your solution of putting the pickup in a diminutive spalted maple soap bar style case, shaped to echo the body shape works so well it looks as if it was part of the original design.
The performance of the pickup is superb. String balance is flawless and It just chimes with glass like clarity. The original piezo pickup is still a very good and powerful sound on its own but flick to the magnetic or a blend of magnetic and piezo and the sound takes on a new dimension and presence.
To find someone winding pickups specifically for mandolin/bouzouki type instruments was a bonus. To find someone who could design with such sympathy for the appearance of the instrument and then perform a very tricky installation job seamlessly was a double bonus.
Thanks again." (David Rimell, Hastings, UK)
A collaboration with classical Sarod player Tarun Jasani who is pioneering a solid electric form of the instrument. Incorporated into a plain Jazz Bass cover, the irregular spacing is to capture the four melody strings on the right and the drones on the left and large pole screws have been used to respond to multiple strings.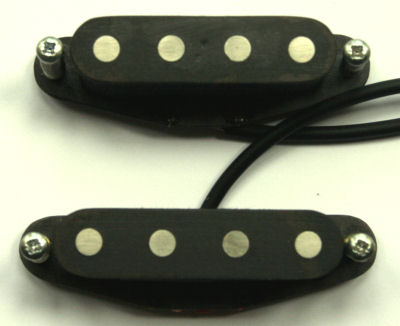 This pair of Fender style pickups was created for a solid Concert Ukulele. Pole spacings are 14mm and 12.7mm and the bobbin is vulcanised fibre board with AlNiCo V rod magnets.
As a guide, for one-off mandolin pickups, please add £5.00 to the typical price. For other types of pickup or OEM production runs, please contact us.
Pickups are supplied with mounting screws and springs where applicable.