The MB4 range are direct upgrades from the"P Bass" type pickups fitted to Epiphone Mandobirds (and numerous other makers) with a 10mm pole spacing.
The MB4L single coil gives a brighter, more balanced tone and string response to compensate for the "weak E" commonly found when guitar based pickups are used. The 5.4k wind is slightly hotter than standard and the neodymium magnets give chord playing increased clarity.
The "PhatBird 4" design was inspired by the classic "P90" single coil and features a larger, shallower coil wound to 8.8kOhms giving a slight increase in output (around 3db RMS). The "Phatbird" puts out a more mellow tone with a hint of roughness and distortion - best suited to Blues and Rock.
The MB4CTS is for those who prefer the transparency of a single coil but would like a boost at the flick of a switch. This 4 wire tapped single coil has a DC resistance of 3.5kOhms on the first part and an additional 4.9kOhms on the secondary wind giving a sizable jump in output when both coils are in use - tonally, less raucous than the "Phatbird" but still with plenty of output.
The MB4HC (shown in the image above) is a 4 wire humbucker with each coil wound to 3.5k which is the typical standard wind.
Although the control cavity is quite a tight fit, there is room for a standard push/pull mini potentiometer which opens up a range of switching options - particularly useful is series/parallel wiring giving a noticeable boost when switching from rhythm to solo.
Adjustable pole pieces give the potential for fine tuning the string balance and to minimise feedback, the MB4s are resin potted. These "half a P Bass" pickups are also ideal for any similarly equipped E-Mando with a string spacing of around 10mm.
Please note, some Mandobirds have hole spacings as wide as 64mm and but filling and re-drilling should not be necessary since the lugs on the cover are not full depth and the screw holes are slightly oversized.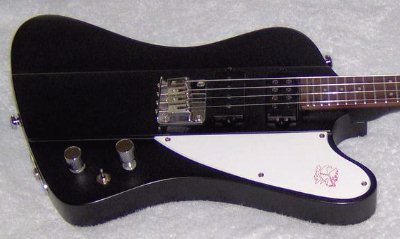 "The neck pup is a stock Almuse 4HC humbucker wired through a p/p volume pot in coil tap before the selector switch. The bridge pup is a custom Almuse MB8, overwound to around 6.5k and fitted with larger magnets. This set up provides many tonal options and there is definitely no weak E. It'll do everything from country twang to full-on screamin'! I want to thank Pete at Almuse for his advice & for the GREAT pups"
Shaun O`Brian, Klamath Falls, OR, USA
"Thank you very much for the Phatbird pick up.  It is a vast improvement of the stock pick up on my Mandobird IV. The range of tone and volume has opened up a whole new dimension of sounds that I never imagined.   Thank you once again for an amazing pick up".
Wade Wilcox, Goose Bay, Canada
"Hi there, my mandobird replacement pick-up came today and was an easy enough job for my unskilled hands. It makes an incredible difference - you've set my mandobird free"
Dave Dominey, Glasgow, Scotland