The "MandoTele"
Available in 4 string and 5 string variants, as the name suggests, these pickups have been created for Telecaster style e-mandos. Although they are open coil designs, covered versions of the neck pickup are also available (so suitable for Goldtone electric mandolins).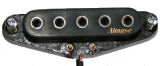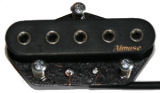 Pole piece spacing is 11mm for TB4 & TB5 and 10mm for TN4 & TN5. D.C. resistances are TB4 - 5.6k, TN4 - 5.3k, TB5 - 6.3k, TN5 - 5.7k.
The "MandoStrat"
Designed to suit Stratocaster style mandolins or other instruments where minimal size and a big sound are needed. Rather than being a pickup within a plastic cover, the completed bobbin is resin potted in a silicon rubber mould - standard colours being black and ivory. Available singly or as a matched set of 3.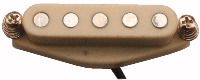 Pole piece spacing is 10.5mm and three models are available - S5N (5.7k), S5M (5.8k reverse wound) and S5B (6.0k)
The "Retro"
Available in 4 or 5 string variants, the "Retro" is a compact, fully resin potted pickup of moderate output and as always, balance is a priority.
The 4 string model is available with pole spacings of 10,11 and 12mm with nominal DC resistances of 5.5, 5.8 and 6.2kOhms respectively.
The 5 string model is available with 11mm and 10mm spacings with nominal resistances of 5.6 and 5.9kOhms. Both pickups are supplied with a resin cast surround ring but these pickups may also be scratchplate mounted.
The "S4"
A compact single coil of medium output, the S4 has a pole spacing of 11mm and is intended for scratchplate mounting. This general purpose pickup is fully resin potted to minimise feeback so would also be ideal for the multitude of electro-acoustic "A" style mandolins (although a new scratchplate would need to be made).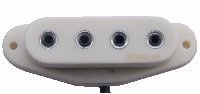 Nominal DC resistance is 5.8kOhms and the concept is based on the popular Mandobird MB8L. For dual pickup installations, a reverse wind/polarity version is also available for hum cancellation when both pickups are selected.